Husky Energy could be adding a significant chunk to their Lloydminster workforce in the near future.
According to information supplied to the public at the company's open house on Wednesday afternoon, the projected asphalt plant expansion adjacent to the Border City could bring in a maximum of 800 jobs in the construction phase, along with 50 permanent positions once construction is finished.
The plant is expected to process around 30,000 barrels of heavy crude per day, which in turn would produce 15,000 barrels of asphalt per day, varying in grade.
The location for the plant is located directly south of the Lloydminster Upgrader, within the Rural Municipality of Wilton. The facility would also be hooked up to existing utility and shipment lines in the upgrader site.
During the construction phase, Husky would be limiting work to the immediate site of the facility, and busing workers in and out of the area from Lloydminster. Dust suppression is also planned to be used on the work site.
Lloydminster mayor Gerald Aalbers was present at the open house, and expressed excitement at the prospect of the plant being built.
"An additional refinery will create permanent jobs adjacent to the city," said Aalbers.
"It will bring more stability to our community, because when you have a steady process like a refinery, those jobs don't shut down in the wintertime. During a turnaround, they're still there, they're just not producing anything."
Aalbers also said the amount of anticipated construction jobs will have a noticeable impact on Lloydminster's economy
"Those people are going to be eating in restaurants, staying in hotels, purchasing consumables of their own, as well as everything from drug stores to all the other associated stores that they're going to shop in," said Aalbers.
"It's fabulous."
Husky spokesperson Kim Guttormson said the location south of the upgrader has been chosen for further review by the company, with the expansion fueled by growing demand for asphalt.
"There are a number of synergies we could accomplish, utilities, existing roads and railway, we're all on one site," said Guttormson.
"We're advancing that location for review. The project still needs financial sanction and regulatory approval to move forward."
According to Guttormson, the decision on proceeding with the plant will be made later in the year, with no exact set timeframe for approval. She also said around 120 people attended the first session of the open house, which ran from 11:00 a.m. to 2:00 p.m., as well as 4:00 p.m. to 7:00 p.m.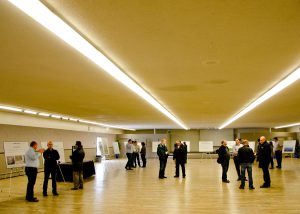 The open house was the only planned public event for the project. Photographs of key slides from the event can be found in the gallery below.