The long-discussed wastewater plant has moved closer to becoming a reality in Lloydminster.
During Monday's meeting of council, a choice came before the City for the selection of an Owner-Engineer on the project. The contract was given to ISL Engineering and Land Services for a total cost of $1,449,743.00, which will be paid out in phases.
According to City officials, the decision to bring in an Owner-Engineer could lower the price tag of the project, which last stood at an estimated $80 million. The firm will be in charge of preparing the Request for Qualification, which will aid the City in choosing the right design-builder to construct the facility.
Once the City has funds in place and a design selected, the project will move onto the Request for Proposal phase, and eventual construction. A timeline included in the council agenda from Monday illustrated how long the project is expected to take.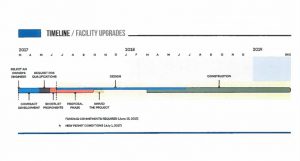 Speaking after Monday's meeting, Lloydminster mayor Gerald Aalbers indicated that the City was running out of time on the project, and work was still being done to secure a deadline extension from the government of Saskatchewan. The current deadline for the plant to be in place is July 17, 2017.
"We're making our commitment to having our engineering work done, getting things ready," said Aalbers.
"We will have the ability to continue to engineer, as we build."
Aalbers also indicated that there was ongoing communication between the City and the Saskatchewan government on the matter, with a letter being prepared to be sent to Scott Moe, the Saskatchewan Minister of the Environment. The mayor said a trip to Regina will be made "if need be", and had no timeline on when an extension could be put in place.
Terry Burton, the Chief Executive Engineer for the City of Lloydminster, said the choice to bring on an Owner-Engineer could bring costs down for the project.
"This could have some changes on the cost side of things," said Burton.
As for how long it will take to see progress on the RFQ process, Burton estimated around six to eight months, and longer when it came to council being presented with a decision on the plant.
"It's going to be well into the new year before we have something back before council," said Burton.
The City has made applications to both Alberta and the federal government for the funding of the plant. Overall funding for the project is expected to come through grants, the general revenue of the city, borrowing, and offsite levies.