Dr. Eva Olsson has finished her rounds in Lloydminster.
Olsson was 19 years old when she was sent with her family to the Nazi death camp at Auschwitz, during the end of the Second World War. She lost many family members to the Holocaust, and now travels throughout Canada, teaching and telling stories from her life in order fight hatred and promote peace.
Olsson was present in the Border City towards the end of last week, speaking at Holy Rosary High School, the Lloydminster Gospel Fellowship church, and Lloydminster Comprehensive High School (LCHS). In her final presentation at LCHS, she warned the gathered students about the growth of hatred and division, and provided first-hand experience from the dark day's of the 1940s.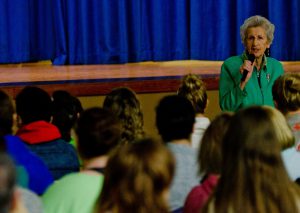 Olsson also repeatedly told the students that they would be among the last to hear the experiences of Holocaust survivors first-hand.
"A lot of my friends have heard about the Holocaust, but they don't really take it to heart," said Isabella Ingriselli, a Grade 11 student at LCHS.
"They've heard about it, but they don't know the full details about it, so I think this bring awareness on a new level. When you hear about it from an actual survivor, up close and personal, and she brings pictures and everything, it helps, a lot."
Ingriselli also said she had never thought about her generation being the last to hear stories like Olsson's first hand.
"I'm part of the last group that's going to hear about this, and it's up to us, when all the Holocaust survivors are gone, it's up to us to pass on the story to our children," said Ingriselli.
"I thought that was a very cool responsibility."
As for Olsson herself, she said her most important message was one of eliminating hate.
"When eliminate hate, we automatically eliminate bullies," said Olsson.
"A child that is loving, and is loved, will never be a bully, and an adult as well. That's what I'm hoping for, and acceptance that people will learn from other people. If you're all the same, we don't learn from each other, right? We learn from each other because there is some difference."
Olsson's next stop is Edmonton.