On Monday, Council awarded the contract for the 2017 Water and Sewer Mains Replacement Program (WSR) to Rusway Construction LTD for $1, 288, 001.25.
Construction will focus on these areas:
The replacement and upgrade of the watermain on 46 Street, between 48 Avenue and 50 Avenue
The replacement of sanitary sewer main on 46 Street from 48 Avenue to 49 Avenue
The repair of storm mains and catch basins on 46 Street from 48 Avenue to 49 Avenue
Installation of a new watermain and replacement of the sanitary sewer on 48 Avenue from 45 Street to 46 Street
The reconstruction and rehabilitation of roads, sidewalks, curbs and gutters on the above road sections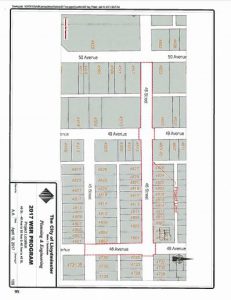 In the 2017 budget, $2 million was approved to fund the WSR, with funding through depreciation. Out of this $500, 000 has been set aside for the Wastewater Treatment Plant Facility Upgrade. The remaining budget after the WSR contract will go towards consultant fees, geotechnical investigation, testing/inspection and contingency.
The WSR is aiming to replace the City's water and sewer lines that were built around the 1950s. Construction is expected to be completed by September 30, 2017.