Three apprentices from Lakeland College were honoured with a 2016 Top Apprentice Award during the 20th annual Alberta Apprenticeship and Industry Training Board Awards on April 21.
For carpenter Devon Froland, the provincial award is one of many of his accomplishments in the trade, also taking home the Alberta Construction Association Top Carpenter Award last year.
"I have to give a lot of credit for my work ethic to my boss at Holte Builders Ltd., and Lakeland College. Lakeland offers a lot more hands-on training and you definitely learn a lot. I always recommend Lakeland to others and not just to people interested in being carpenters," says Froland.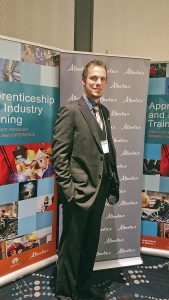 Samantha Niedzielski, a parts technician, was surprised to receive the award.
"It's going to take a while for it to sink in that it's a provincial award," says Niedzielski.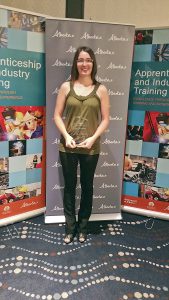 Dean Coulson, a heavy duty technician-transport trailer mechanic, credits the award to his instructors.
"They were awesome, they know what they're doing and are very helpful. I just feel like you get the best education at Lakeland."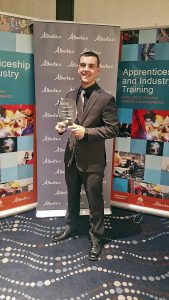 "On behalf of Lakeland College, I congratulate Devon, Samantha and Dean for their leadership and excellence as skilled tradepersons," says Dave King, the Dean of the School of Trades and Technology.
King adds, "We are proud of their outstanding accomplishments and know they will continue to excel in their respective trades."
They were among 62 recipients at this years awards.