Students at Barr Colony school excitedly helped kick-off Pitch-In Week Lloydminster, starting the event with a pump up speech from Mayor Gerald Aalbers and then they were off. Hurrying to help clean the grounds of their school.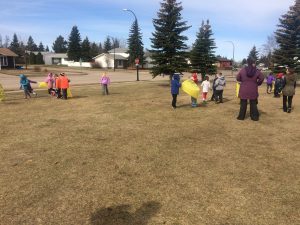 The importance of the event is not lost among the fun for the students.
"It's not good to have trash every where because it's bad for our earth and we want to protect our earth as long as we can because we only have one planet and we need to make it last, so it's good to pitch-in," says Julian Tepper, a grade four student.
"If you leave trash everywhere, then it would be really hard to get around and it would just be really bad for our planet," says Kassidy O'Donovan, a grade four student.
Both students added they were having a lot of fun and they were going to bring what they learned home to their families and would keep pitching in, which Mayor Gerald Aalbers says is the goal of getting the school involved.
"I think this is important that we get to the kids now, because we know that good habits tend to carry on and if they realize the value of how important it is to clean things up in their neighborhood and in their homes, and around them, and on their school grounds, they'll take a great deal of pride in their community."
Karen Dela Rose, the General Manager of Waste Service for the City of Lloydminster agrees that starting kids young is the best way to hope they will continue to be environmentally conscious.
"We want to start them young, get them educated about environmental responsibility, about being involved in their community. We like to start that at a very young age and hopefully they bring that to their homes and hopefully as they grow older they can keep those values."
Mayor Aalbers and Dela Rosa both encourage everyone to do their part.
"We're very proud of our community, we talk about volunteers, we talk about people in need, in essence Mother Nature needs a little help now, because there's certain things she can't dispose of, so if we can help out because we likely put it there in the first place, so if we can help out by cleaning it up, it's going to enhance our community. We're going to see a much more beautiful community, once that green grass is fully out and were not seeing garbage in that green grass, and I think everybody appreciates that," says Mayor Aalbers.
"We want to be environmentally responsible and we want people to take care of their community because this is our home. We'd like them to be involved in making sure that our community is clean, that our community is doing their part in being environmentally responsible," adds Dela Rosa.
The household hazardous waste round up will be one of the last events of the week, taking place at 10 am-2 pm on May 6 at the Lloydminster Exhibition Grounds. Residents can arrange to have items picked up free by calling Rita at 780-872-1136 before 6 p.m the day before.