Andrew Scheer is the new leader of the Conservative Party of Canada, winning the leadership race on Saturday with 51% of the vote.
Long time supporter of Scheer and Battlefords-Lloydminster MP Gerry Ritz says "[Scheer] ran a great campaign, spent a ton of time out there talking to real folks and of course that showed the other evening when he came through victorious."
It was a close battle, with opponent Maxime Bernier leading the race until the final round. However, Scheer lead all 13 rounds in the Battlefords-Lloydminster riding, with commanding support in the final round. He also was able to beat Bernier in his own riding of Beauce, Quebec.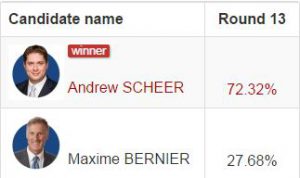 "At the end of the day he is the right person at the right time. Young, dynamic, family man, great unifier. He had tremendous support throughout caucus, the senate and of course even provincial colleagues."
What may have helped Scheer in the race, is his experience as Speaker of the House of Commons.
"He is very skilled in working his way through the jargon, if you will, of politics and certainly that stood him in good stead."
With the next election two years away, Ritz says Scheer is going to have get out and gain some recognition with the public.
"The work never stops, it's one of those revolving doors, you catch yourself coming back at times but he's going to have to get out."
Adding that, "it's up to Andrew now to spend this summer putting together the team he wants to bring into the election, putting together some policy ideas to take to the floor by the next assembly in Halifax in August of 2018."
One of the things that may help Scheer get noticed according to Ritz is social media.
"The big difference we have now, social media plays such a huge part of moving forward."
Over 140,000 votes were cast in this leadership race according to the party.