Lloydminster RCMP are investigating vandalism that took place over the weekend at Bud Miller Park and a surrounding residential neighborhood.
Graffiti was placed on playground equipment, as well as benches, rocks, concrete walking paths in the park. Constable Grant Kirzinger says they are currently looking into the situation.
"Mischief occurred inside Bud Miller Park, as well as the surrounding residential area along 25 street. We've been looking into those trying to see if there's ways that they can be connected and then conducting those investigations simultaneously."
A Facebook post sparked the speculation of the vandalism being a high school graduation prank after "Grad 18" was written in some areas of the park.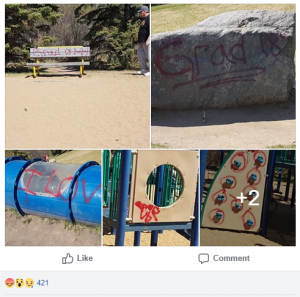 Kirzinger says that the RCMP never view situations like these as pranks.
"Anytime somebody's personal property or the property of the City is defaced it's not actually a prank. It is damage it is mischief, it is causing difficulty to the individuals who own that property."
In the surrounding residential neighborhood, trucks, signs and fences were also damaged with graffiti expressing inappropriate language.
Kirzinger says the consequences of this type of vandalism can result in 6 months in jail or up to $6,000 in fines. Currently, the RCMP do have a few leads as to who is responsible and are continuing to look into them.
"At this point in the investigation we're definitely looking at all possible avenues and leads, whether that be the information that was wrote down itself or some of the physical evidence that we've been able to gather and collect."