The Lloydminster Hospital played host to students from the Lloydminster Comprehensive High School, allowing them to get a hands-on experience with trauma.
As part of the Prevent Alcohol and Risk-Related Trauma in Youth program, also known as P.A.R.T.Y, students across the province learn the effects accidents can have on a person and their body. Education and Prevention Coordinator with Saskatchewan Health Authority Kaitlyn Koch says the program is designed to educate youth on risks and how to prevent them.
"Typically we bring them into a hospital get them to see the consequences of a car crash or some other type of injury and run them through with paramedics, nurses, we have RCMP involved today. We also have our therapists involved to see what a permanent injury might be like and how you can recover."
Koch says they focus on car crashes a lot because the top cause of death for people ages 15 to 24 is a car crash in Canada. Also, since Lloydminster is more spread out with being a rural and urban area, there are higher rates of crashes, Koch adds.
The student's experienced, the emergency room and the therapy department of the hospital, the funeral home and talked with the RCMP.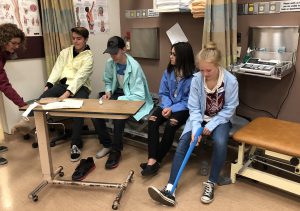 Grade 10 Student Mckenna Richelhoff says she didn't realize how hard it was to live with an injury before this experience.
"When I was trying to put on the buttons or things like that, it takes me a minute to get dressed. I didn't realize what it was like for people with injuries and how they get through everyday life and what a struggle it is."
Koch says the goal of the program is to help students think twice about the decisions they're making so they're not risking permanent injury or death with their choices.