RCMP are currently investigating attempted restaurant frauds in Vegreville.
RCMP report the activity of a lone male happened in the afternoon on June 24 when the man tried to defraud cash out of restaurants. The male allegedly would overtip on food using a credit card and then claim he made a mistake and wanted the refund in cash.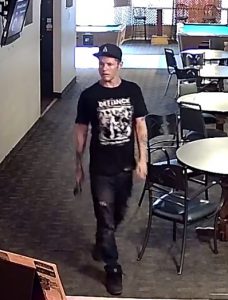 Vegreville RCMP is looking to identify the male from the images and would like any information from businesses who might have been targeted by the individual.
The male was last seen wearing a black t-shirt with a white 'Defiance' logo, a black ball cap, and has tattoos on his wrist.
Any information on the incident call Vegreville RCMP at 780.632.2223 or CrimeStoppers at 1.800.222.8477.