UPDATE: According to CMRO their truck and trailer have been recovered.
—————————————————————————————————————————
The Canadian Mud Racer's Organization says their equipment truck and merchandise trailer was stolen Thursday night on 47 Avenue in Lloydminster. The non-profit organization travels across Alberta providing entertainment in the form of racing through mud pits.
Rule and tech committee member with CMRO Darren DeJong says the organization's whole life is inside the van and now they are left with nothing to provide entertainment.
"Thousands upon thousands of dollars worth of equipment is inside that van, as well as the merchandise trailer. We throw a lot of money out to provide t-shirts and all sorts of memorabilia for our fans that are gracious enough to come out to these events."
He says the vehicles were being stored at a residence on 47 Avenue until their next event.
The equipment truck is described as a 2003 Ford F550 cube van, approximately 25 feet in length with a lot of decals on the side, as well as an insignia stating CMRO. The merchandise trailer was on the back of the truck and was also stolen.
"It is a small tandem axle enclosed trailer on the back of it that holds all of our merchandise that helps with the proceeds of our non-profit organization."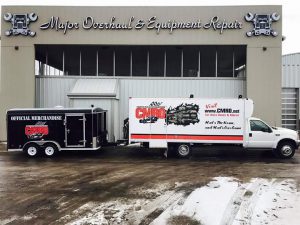 DeJong says they will continue to hold events and provide entertainment despite the incident. Lloydminster RCMP are currently conducting an investigation in order to locate the vehicle.