Maidstone RCMP is looking for the public's help locating two stolen snowmobiles in the Rural Municipality of Wilton.
On Monday December 17, at 6:30 a.m., two male suspects stole two snowmobiles from a private acreage located 10 kilometres south of Lloydminster in the Rural Municipality of Wilton.
The suspects are seen on security camera wearing light-coloured winter coats, ski pants and backpacks. One of the two males is of thin build, the other male of larger build. They are both of average height.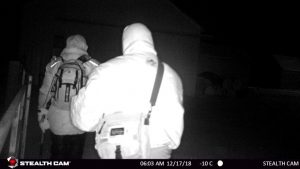 The stolen snowmobiles are a black and yellow 2005 Polaris Switchback and an orange and black 2013 Skidoo Summit 800.
If you have information about this or any other crime, please contact Maidstone RCMP at 306-893-4800 or you may contact Saskatchewan Crime Stoppers anonymously at 1-800-222-TIPS (8477) or submit a tip online at www.saskcrimestoppers.com.