This weekend saw Lloydminster's first truck convoy drive through the city from Northern Livestock Exchange. Dozens upon dozens of trucks could be seen carrying messages protesting inaction for the oil & gas industry.
One of the organizers of the convoy, Dion Boser, estimated over a hundred participating in the rally from businesses he reached out to.
"I made a few phone calls to start, and I started posting on social media, like Facebook and whatnot," says Boser. Through his organizing, he came across Marc Oulette doing the same thing.
"I reached out to all the local businesses and business owners to be vocal about pipeline issues we're dealing with. It's time for the provincial and federal governments to stop the empty talks, and let's get this pipe built," says Ouellette.
Ouellette says that oil and gas projects are leaving the country, something he blames on the carbon tax and delays on new pipelines.
"It undermines all the investors, who are reluctant to bring money for projects into the country," says Ouellette. He owns a trucking company but says that the oil & gas industry affects much more than his own line of work.
"Any businesses in town get affected. Whether its the restaurant or the corner store or the shoe store. It all trickles down from the effect of not having those pipelines to get our resources to market," says Ouellette.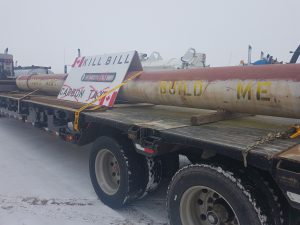 Boser's own truck led the convoy down Highway 16 until Range Road 20, driving no more than 30 km per hour with hazards on and obeying all traffic laws. To him, the convoy is about sending a message to Ottawa.
"I want us back to work. Get the pipelines in the ground, take the tanker ban off, let us ship our gas from Kitimat or Burnaby," says Boser. He adds that the carbon tax is increasing expenses for those who are out of work.
"Everyone's cost of living is going way up, and everyone's income is going way down. If we just let the oil flow, the cleanest and safest and most environmentally friendly in the world, then Canada will be prosperous with lower taxes and everybody working," says Boser.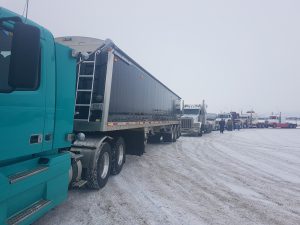 As the convoy prepared to leave, Boser admitted he was very excited by the turnout.
"I didn't think it was gonna be this good. We have trucks parked down a whole other service road, it's more than just in this parking lot. It's mindblowing."
Boser hopes that the convoy evolves in more awareness and action. When asked about joining a convoy to Ottawa, Boser was unsure if he would, admitting expenses for fuel and food would be an obstacle.