Grad six students at Rendell Park Elementary School are taking their education our of this world. The students connected with researchers from the Canada-France-Hawaii Telescope (CFHT), based on Hawaii's big island, through a live video chat on Friday. The session was led by a former LPSD named Hope Boyce and tied in the student's solar system and space unit.
Students learned about things like some of the capabilities of the telescope and the true size of objects in the solar system. Sheldon Gallagher, principal of Rendell Park Elementary School, calls the video session a great opportunity for his students. He says that the learning was helped by connecting with a former student from right here in Lloydminster.
"I think that's what makes the learning the most meaningful, is when there is that personal connection. We're hoping that this is something that they remember throughout there school days, and as they go on to choose careers that this is something they'll latch on to. Maybe it'll spark future astronomers in years to come," says Gallagher.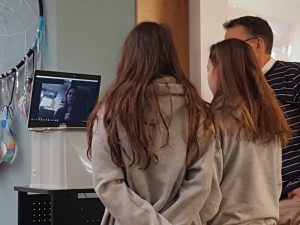 While the solar system and astronomy were the focus of the info session, that's not all they could learn. Gallagher hopes that many of the students took home a sense of determination to achieve their goals. He also hopes that seeing three female scientists involved in this project will help young girls see they're capable of achieving a career in science.
"We're hoping that our young female student body recognizes that there is a place for them in science, and it's not just a guy thing. It's something that should be accessible to all of our students."