Mayor Gerald Aalbers is reminding residents to cooperate with snow removal crews as they tackle ice and snow in residential roads. City crews have begun scraping snow and ice off of roads this week, and Mayor Aalbers wants to remind residents to be cautious while they drive around heavy equipment.
"Please be cautious, respect them. This is heavy equipment; they're trying to do the best job they can as quick as they can. When people weave in and out between the equipment it's really dangerous," says Aalbers. He says that some concerns with snow removal operations have are the heavy equipment trying to move as fast they can in residential neighbourhoods and having the space to do so.
"They are an inconvenience we realize, but by the same token, it is a necessary evil we have if we want our smooth streets to be cleared. So we're asking people to take the time, give them that space and distance and be safe."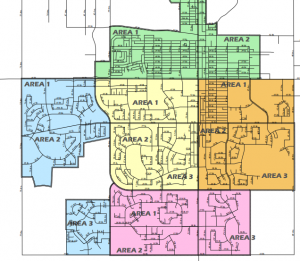 Aalbers says nobody wants an accident between the trucks, graters, loaders, snowblowers and residents of the city. The city is currently ploughing yellow, green and blue areas of the city. The map coincides with curbside collection so that snow removal may cooperate with other city operations. Aalbers says the snow removal will continue for a number of weeks and asks that residents just be cautious in their neighbourhoods.
"I just ask people, if you see flashing lights, if you see construction equipment or trucks, please give them a little birth. They're trying to serve you, the residents of the city, better. With everyone's help, we'll do this safely and efficiently and that's what we're after."