The City is looking to purchase some land to expand the Veteran Land Area (VLA) Soccer Field and Legion Ball Park parking lot. The land, currently owned by Eastwood Holdings, is 0.58 acres and sits beside the current VLA parking lot.
The current value of that land is $192,000, and more money would have to go into development and gravel to make more parking space. Council voted in favour of the purchase, which will create a greater buffer zone between the park and nearby housing. Councillor Jonathan Torresan agrees with the purchase, commenting that parking can stretch all the way down the street on busy game nights.
"I've run into scenarios with young kids in kinder soccer and having to walk them down what ends up being a pretty busy street on soccer nights. If you've got three and four and five-year-olds, even six and seven, it's hard to wrangle multiple kids to begin with, let alone doing it all the way to E.S. Laird. In the long run, this should be a big improvement for parking availability, and from a safety perspective, will be better for everyone," says Torresan.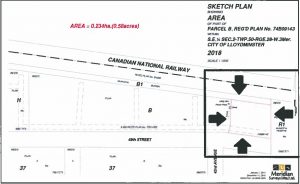 The additional parking space will also be better for post-secondary games at the park, Torresan adds. He asserts that when there's something going on at the park, it is very full. The purchase will have to be included in the 2020 Capital Budget, meaning the timeline for it has yet to be determined.
Mayor Aalbers sees the purchase as a convenience for those at the park and living in the area. Additional parking closer to the field means fewer vehicles on the streets in front of houses or mistakenly parked in driveways. On top of this, Aalbers sees the purchase as an investment ahead of Lloydminster hosting the 2020 Saskatchewan Summer Games.
"As we heard from administration, the intention is it may not happen in 2019. But the games are scheduled for the summer of 2020, so we shouldn't have too much trouble getting that into play I believe," says Aalbers.