The city has announced the resumption of snow plowing in residential areas. The process will continue over the next few weeks and will plow snow into rows along the centre of roads. Rows of plowed snow are expected to be picked up by snow blowers and loaders within 24 hours.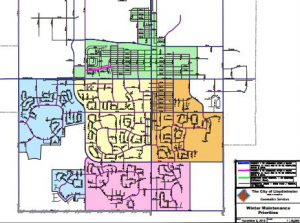 Parents and guardians are asked to keep children a safe distance from snow piles and equipment during snow removal. This comes after snow removal was cancelled earlier this week. The extremely cold temperatures, along with an increased chance of damaging equipment and a poor ability to remove snow were a factor in cancelling snow removal operations.
The city will continue to remove snow in residential areas noted as blue, yellow and green areas on their Priority Routes map. This very closely lines up with neighbourhoods that have curbside collection on Mondays, Tuesdays and Fridays. It will accommodate curbside pickup days by alternating through the areas before moving on to remove snow in residential areas that collect waste on Wednesdays and Thursdays.