Winston Churchill school's gym was loud with excitement on Friday as Pi day became a little messy for the teachers. Students raised money for an opportunity to throw some pies at the teachers, and a chance to be Principal and Vice Principal for the day.
The school partnered with Big Brothers Big Sisters raising $1,208 for child mentoring programs. The organization is holding Wii bowling at the school ahead of this year's Bowl for Kids event. Director of Service Delivery Jacqueline Weed says it was fantastic seeing the kids excited to help the local organization.
"It gives these kids a chance to give back for services that some of them receive, and some of their friends, they all know kids who come to our programs and benefit from our programs, so it's great to have the support from the kids as well as the volunteers and adults."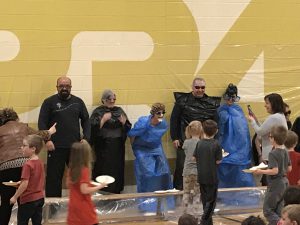 Winston Churchill Principal Elena Brand says the school raises funds every year for larger organizations, but they've always tried to support local causes as well.
"We had no idea we would have that many students wanting to pie the teachers, although we should have thought about that because they probably did," Brand says the reasonable price of $1 a pie had kids scrounging up as much as they could to pie their educators.
"We had tons of quarters, nickels, dimes, they cleaned out piggy banks, they cleaned out change drawers, and they came and one kid had twenty dollars, so pied teachers twenty times."
Brand says the process of getting kids involved with the local fundraiser was natural since the school has partnered with BBBS before and they have students who use its programs.
"It's a great service learning project for them, and it's very fun. It's one of those times where they get to see their admin, their teachers in a different light."