A new season is upon us: construction season. The city has awarded upcoming projects in the Border City to a local company. A sanitary main replacement has been awarded to Rusway Construction Ltd. for $853,029.50, and so has the 2019 water and sewer replacement for $1,954,268.25.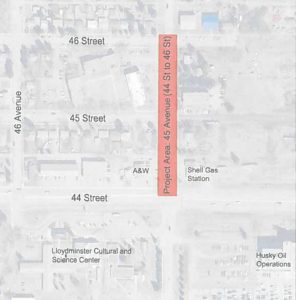 An infrastructure audit found a sanitary main on 36 street may experience flooding. It's recommended that the pressure be alleviated in phases with the first phase beginning on 45 avenue between 44 and 46 street. The main will be replaced and upsized from a diameter of 375 mm to 600 mm PVC main. The project also includes work and reconstruction on sidewalks, curbs and roads, with a budget of $1.27 million.
An upsizing of water and sewer mains is also in store this summer. Infrastructure installed around and before the 1960s will be replaced on 47 avenue from 40 street up to 44 street. Among the work being done is replacing the existing 200 mm diameter asbestos cement water main with PVC, replacing the existing 375 mm diameter vitreous clay tile (VCT) main with 450 mm and 600 mm diameter PVC and new 900 mm and 1200 mm diameter concrete storm sewer mains. This project has an approved budget of $2.5 million.
Mayor Aalbers recognizes that the work on these projects may be inconvenient for residents. He joked in council that the city's two seasons are winter and construction. Though some residents may be frustrated with project speeds, Aalbers stresses it won't happen overnight and the city works hard to deliver the best results as fast as it can.
"We work as hard as we can, diligently with our contractors, to provide the best services we can, at a reasonable price and within a reasonable time frame for our residents. As they can understand, if we could have all the pieces of equipment in town, you couldn't afford your taxes," says Aalbers.
Rusway Construction was selected out of six other companies bidding for the contract. For each project, the company bid $100,000 to $250,000 lower than other competing bids. Aalbers also highlights that they intend to work their best to resolve the problem as fast as they can, weather permitting.
"There's a process, and it simply doesn't happen overnight. Most of us work an eight to twelve hour day and we can't expect things to happen over twenty-four hours. And as we talked about, weather is not always our friend, so we'll work with weather as best as we can."
Aalbers adds that the intention to pursue this will be reflected in the budget coming this fall. Both projects are set to begin next month, with 45 avenue to be completed by the end of August while 47 avenue is set to finish by the end of September.