MLA-elect Garth Rowswell is one of the many new faces in the Alberta legislature learning the ropes of politics.
This week, newly-elected MLAs have been in orientation at the legislature to help them learn the house procedures, how set up their constituency offices, and about the life of an elected official. The orientation is held by the Legislative Assembly Office to help them organize ahead of being sworn in. Rowswell says that as a new MLA, there's definitely a lot to learn.
"There's so much to know. One guy told me, take a sip a day from the firehose, and eventually, you'll be O.K.," says Rowswell.
Thus far, he's learned that there's a lot of help being an MLA. Rowswell says that legislature staff are present to help members complete tasks, help them settle in and start representing their constituents. He was surprised to learn that being an MLA means much of your schedule isn't your own; he has a number of things tentatively scheduled, but nothing concrete until he knows where he stands in the legislature.
Dr. Richard Starke and his wife, Alison, addressed the new members as well. He shared with them some wisdom about how the new members can take care of themselves and properly represent their riding. Rowswell says that the two helped drive home the importance of remembering your family while representing in the house.
"You don't want to forget about yourself or your family, cause you can get tied up so much that you're always doing the MLA job and forget about your family. I think that was as big a message as anything, to make sure you carve out some time for yourself and your family."
'Happy to pay it forward'
Dr. Richard Starke served as the member for Vermilion-Lloydminster for the past seven years. When the writ dropped, his retirement kicked in as he decided not to seek re-election. Each year, the orientation sessions bring a former MLA to present to the rookies about the job.
In this case, his wife was invited as well. The two of them shared with the freshly elected members about what they ought to expect, what they should be prepared for, and what sort of life they might lead for the next four years. Starke says he was happy to be invited to the orientation and recalls there being a number of people there to help guide him.
"I remember seven years ago when I was first elected, there were people with life experience that were quite prepared to give us advice, give us things to watch out for, and we're happy to pay it forward," says Starke.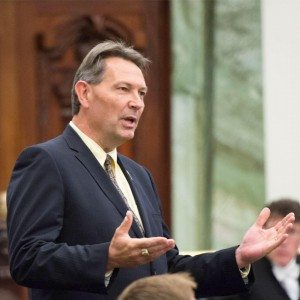 Starke remarks that the incoming members have a lot of challenges ahead of them, coming out of a "rancorous" election campaign. He hopes the new members can present different ideas and policies respectfully, noting that much of the campaign saw vandalism and personal attacks. Starke adds that the economy is not in the best place, presenting another large challenge for them.
Addressing them, Starke told them to stay true to their principles and avoid falling in love with the job enough to sacrifice them. Developing a thick skin, maintaining communication with your family and partners, surrounding yourself with good people, and taking care of yourself are all important parts of being a member. Starke hopes the new members can remember these points while performing a tough job.
"The job is one that takes its toll, it takes its toll on people's health, both mental and physical, and it takes its toll on relationships. Unfortunately, we've experienced people that we've served who's health and relationships have been adversely affected by public service. That's something they need to be aware of and something to watch out for warning signs."
In total, 47 new members were taught the ways on an 87 member assembly. They will join 18 returning UCP members and 20 returning NDP members. It's expected they will be sworn in on Tuesday, and have their first sitting begin on the third week of May.