Local students got to enjoy the sun while getting in some physical activity during Track and Field Day. On Wednesday, College Park students from grades three to six at tried their hand at five events including the long jump.
Track Coach and Grade 4 teacher Christine Thissen believes students who try their best during the track and field events without getting caught up in placing high, usually get hooked on the sport down the road.
"I totally understand that track is some peoples love and some people not so much but its all about getting out there and having fun with the people that around you."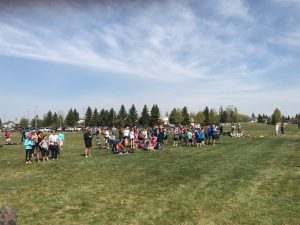 During the day, teachers were assisted by older students like Walker Gerich who was at most of the events giving out tips and pointers to kids competing.
"I've been in track my whole life. I am in track right now. I just like to help, my little brother especially," the grade 9 student says the best part of being in track is being outdoors and the competitiveness of the events. Gerich was alongside his brother Rogan Gerich, who is in grade 3, helping him improve at each event.
"In the 75-meter run, he told me to not look beside me and to keep my eyes forward," Rogan says he liked having his brother around to help him out.
Students who place 1st to 3rd will compete at the Lloydminster Divisional Track and Field Championship on June 5.