The Bobcats are revamping development on and off the ice as the team announces its new performance center.
Team operations will be all under one roof as the new space will feature the Performance Center powered by King's Energy Group Inc. and a new office for staff. The previous location had four offices and a reception desk, which some members of the back office thought paled in comparison to the new open layout. The tools needed for player improvement won't be far as the new Performance Center includes the team's own gym, video room, and player's lounge.
"Anything from SAT prep to working out to home video to team builders it's all right here and now we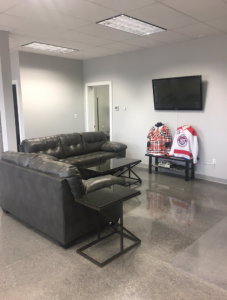 have somewhere to go. The Civic Centre is a good rink for us but just the additional space, it wasn't easy to do those things," Head Coach Nigel Dube says the new location makes everything more accessible for the organization.
After last seasons 9-42-2 record, the players with a potential bad taste in their mouth may have a change of heart after seeing the rebuild. Dube believes the new facility will motivate the players along with serving as a useful recruiting tool.
"It's added a dimension to our organization for players that are looking to come to our program now see what we have to offer, not only on the ice and in the community but on the ice to take them to the next level."
The new office, which is located on 7024 56th Street, officially opened on June 4. Details on an open house of the new facility within the next couple weeks.