Lloydminster's first annual Community Bike Rodeo is a success. Kids from across the Border City came to Bud Miller Park for a fun day of bike rides and bike safety.
The event was held by the Lloydminster RCMP, the Lloydminster Catholic School Division, the Lloydminster Public School Division, Citizens on Patrol, and Grindin' Gears bike shop. A barbecue was on hand to raise money for Citizens on Patrol, and kids were treated to a helmet fitting, bike check and an obstacle course.
Const. Michael Hagel was very happy with the turnout and cooperative weather conditions. With the summer so close, Hagel saw it as an opportunity to help the kids learn more about bike safety and practice their bike riding techniques.
"Especially with the summer months coming up, we want to teach them some good safety tips," said Hagel. "Const. Kirzinger is helping us out with hand signal and our stop sign drills, and we have some slow speed drills. Everyone like to go fast, but we have to teach them how to go slow too. It's been a real blast with these kids."
Const. Kirzinger, with some help from Mayor Gerald Aalbers, helped the kids practice hand signals and road habits along a set obstacle course. Kirzinger is glad to see many young cyclists come to learn more about safety ahead of summer break.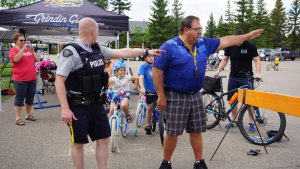 "Coming into summer, it's really important that kids are safe on the roads," said Kirzinger. "Making sure they know the hand signals, are wearing their helmets and know where to ride on the road to keep them safe."
Both Kirzinger and Hagel said the turnout warrants another community Bike Rodeo next year.