A ceremony was held to officially open the Lloydminster Hospital's helipad. Officially operating since December, the project took eight months to complete with the help of local work.
The helipad was first used in March and has been used twelve times since. An asset for the hospital, it allows for better access and transferring of patients between the emergency room and STARS air ambulance. Patients at the hospital can also be transferred to major cities without sacrificing a ground ambulance.
Cindy Seidel, provincial director of operations for STARS Saskatchewan, believes the helipad will prove lifesaving. She also serves as a flight nurse and knows that time is critical when it comes to transferring patients.
"For us to be able to come in, land right at the hospital, and provide that critical care right where the patient needs it, from the hospital right to the helicopter, is so amazing. It's going to save a lot of time, as well as many lives," says Seidel.
The helipad even allows for patients to be transferred to larger centres from the back of a rural ambulance. Each scenario for the helipad's use is different and will be based on patient need. By virtue of being at the Lloydminster Hospital, it will serve both provinces.
Its creation came about from Husky Energy realizing it owned land right across from the hospital Paul Zorgdrager, vice-president of heavy oil operations in Lloydminster, says the project seemed like a way they could help contribute to the needs of the hospital.
"It was just a natural fit to leverage the land we had here. We got together with a couple of interested parties in town, and we made it happen," says Zorgdrager.
The project honours twenty-eight different companies and organizations partnering to create the project. The concrete and asphalt pad the helipad sits on cost nearly $500K alone, which the Lloydminster Region Health Foundation and Saskatchewan Health Authority organized fundraising for. Malcolm Radke, CEO of the LRHF, says those working on the project were enthusiastic and motivated to help the Lloydminster Hospital save lives.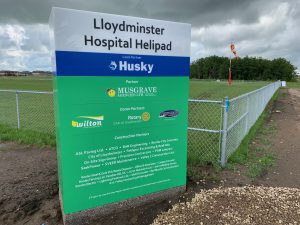 "At the end of the day, it's saving and changing lives. If you can shave off twenty or forty minutes in the middle of a heart attack or cardiac arrest, you're talking about a recovery difference of three months to three years, or often times life and death. Really, that's what it's all about," says Radke.
The Lloydminster Hospital serves an estimated 72,000 people from the Border City and the surrounding area.