Residents lined up around City Hall to delve into some pancakes as the City celebrates the beginning of the Colonial Days Fair. The weather was kind as the City of Lloydminster hosted hundreds of locals Thursday morning for its annual event.
Mayor Gerald Aalbers says the event is perfect for bringing the community together to socialize and enjoy a delicious breakfast. Booths were also set up for residents to gain information on community activities and initiatives such as the local block parties.
"We got a survey in the back asking taxpayers for a little input because we're about to ask people about the budget here for 2020, it's important to get peoples input. And, we have the Grease Beast, here, and we have people asking 'where did this stuff come from?' once we tell people it's from the sewer system it makes people stop and think."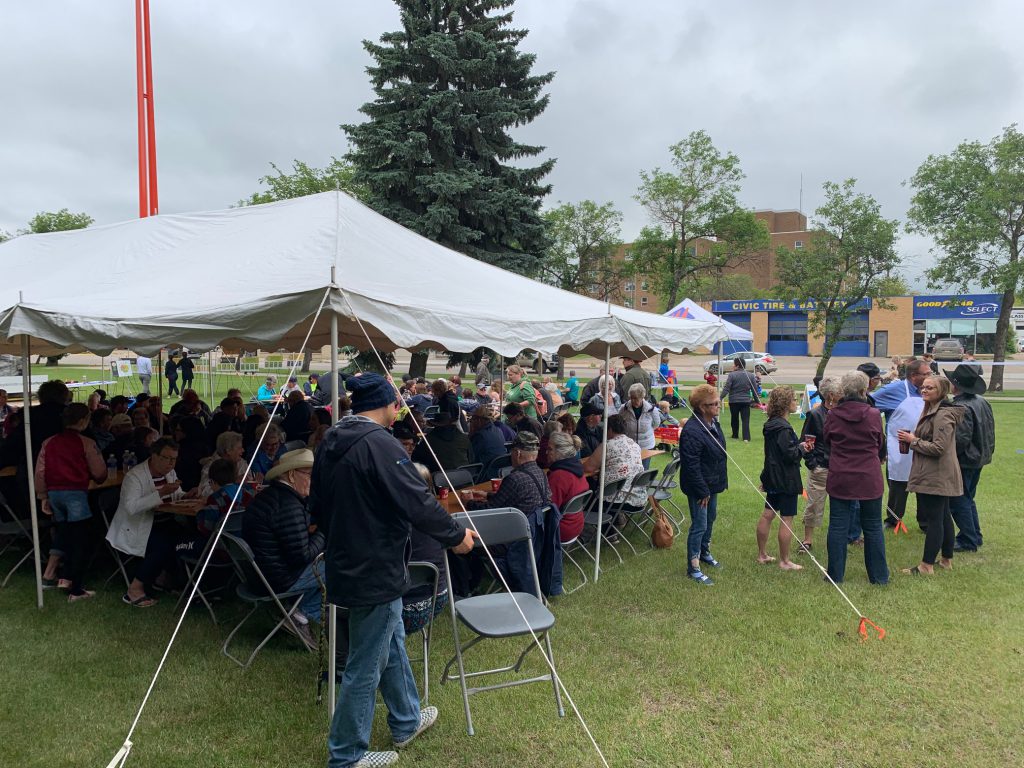 From being in line for breakfast to packing underneath tents to enjoy their food, many families joined in on the event before heading to work or to Colonial Days.
"Having an opportunity to engage with the residents and hand out pancakes, everybody has a smile on their face, it's a great time. It's one of the best parts of the summer, and one of the best opportunities as a counsellor to get together with as much of the community as you can in one short stop," says Councillor Jonathan Torresan
After repaying a friendly wager yesterday, Drumheller Mayor Heather Colberg stuck around to assist city council and Lloydminster MLA Colleen Young in helping prepare and hand out food to the community.
"[Everybody] is just so inviting, and nice, and kind. You should be proud of your community. You have an incredible and nice community," says Mayor Colberg.
Colonial Days will wrap up this Saturday at the Lloydminster Exhibition grounds.