The RCMP Major Crime Unit North is asking for the public's help in locating a vehicle related to the murder of Tiki Laverdiere. The vehicle is a 1997 black Dodge Ram 1500 regular cab pickup truck with the Saskatchewan plate reading 333 KLC.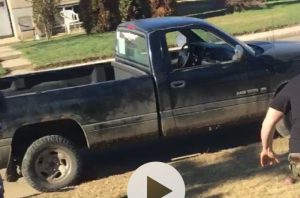 A regular cab pickup truck has a single row of seats inside its cabin and a single set of doors on each side of the truck. The truck has a standard transmission, faded black paint and a white sticker across the top of the rear window. The vehicle was stolen in North Battleford on May 2 and it's believed the vehicle could be in the general area of the Moosomin First Nation or Cochin, but this cannot be confirmed.
Anyone who sees this vehicle or has information about it is asked to contact their local police service, RCMP Detachment or the Saskatchewan RCMP at (306) 310-RCMP (7267). You may also contact CrimeStoppers anonymously at 1-800-222-TIPS (8477).