When Jaime Regular went to the park with her son, Ethan, he insisted on bringing his toy police car with him. After enjoying a fun time at a nearby park, Ethan went home, before he and his mother realized they had forgotten something – the toy police car he calls his dinky!
The Regulars set out to return to the park and find the police car that Ethan had left behind. When they arrived, they found
"As we pulled in, we saw – we'll call them pigeons, because that's what my son knows them as – throwing around the dinky, and destroying it," says Jaime.
The Regulars confronted the two individuals about the toy car who claimed to know nothing about what happened to it. Jaime and her husband, Steve, took to a mock search and told their young son that birds must have taken the toy, to protect him from knowing there are bad people in the world. Ethan went home sad over what became of his dinky, and his mother also became upset.
"I was really angry. Because, well, why would you do that to someone else's property?"
Jaime took to a local Facebook group to vent her frustrations with the way someone treated her son's toy. This post didn't go unnoticed by Const. Brendan Stafford of the Lloydminster RCMP Detachment General Investigation Team. Const. Stafford shared the post with local Mounties and
"When I contacted the family, they told me Ethan was very sad his special car was gone," says Const. Stafford. "I didn't know what I could do, but I knew I could do something."
Const. Stafford took it upon himself and got Ethan and his sister some gifts, including a new police car. Ethan was also presented with a certificate making him an honorary member of the Lloydminster RCMP Detachment by the officer in charge of the detachment, Insp. Lee Brachmann. Ethan was delighted by his visit from the Lloydminster RCMP, and Jaime says this on top of the positives responses online have reaffirmed their love for Lloydminster.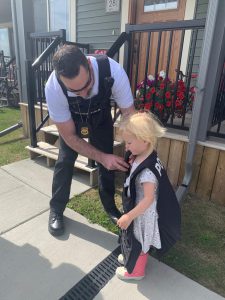 "We love this town. We're not originally from here, and he loves this town, and we love this town even more because everybody is just amazing."
Insp. Brachmann was pleased to show his support for young Ethan and welcome him as an honorary detachment member. He adds his praise for Const. Stafford and his thoughts on doing great police work.
"I am very impressed with the initiative that Constable Stafford showed," says Insp. Brachmann. "Great police work is working with the community."
The identity of the individuals responsible for the theft of the police car is still unknown, but the RCMP says Const. Stafford and Honorary Const. Ethan are on the case.