Onion Lake Cree Nation celebrated the opening of a monument meant to create a sense of identity and bring families and communities together. The community held a grand opening for the 31.5 ft metal teepee on September 3. 
Community members brought metal tablespoons with them to the opening which are hung on the structure. Each spoon was engraved with their names and a virtue they feel they bring to the community. The teepee also acts as a giant wind chime as more spoons are added to the structure.
Onion Lake RCMP community program officer Laila Yazdani is one of the organizers and started the project to increase parental engagement in school and bring in a sense of community.
"This is the beginning for us. We're hoping this will continue and engage more and more members of the community as well as future generations," Yazdani says.
There are three phases to the project with the first being the spoon hanging. The second phase, set to begin next year, is hanging a sign above the family's doorstep with a virtue they've named and committed to. The last phase, which Yazdani says is a long term goal, is to have the area turn into a family park or historical site.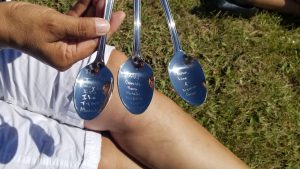 Onion Lake resident Irene Carter says the teepee is already bringing people together and wants to teach her grandchildren how to build and be a part of a safe community.
"Part of this is the beginning of that because people are coming together and starting to think about their virtues. What they bring in their households and what they want to teach their children," Carter says.
Carter brought three spoons with her with all her family members names engraved on them. She also had the virtues of love and patience on the spoons.
Yazdani hopes for the community to celebrate their virtues at the teepee every Family Day. Yazdani says people can drop off their spoons to Eagle Comprehensive Highschool and Kihew Waciston Cree Immersion School which will be added to the monument.
The project was funded by the RCMP Family Violence Initiative and Onion Lake Cree Nation.