As part of Orange Shirt Day, members of Lloydminster Public School Division's Small Fires Indigenous Mentorship Program hosted a blanket exercise at Lakeland College.
Blankets are used as a visual representation of Canada and the Small Fires group go through the events and relationships between Indigenous and non-Indigenous people in Canada's history. 
Grade 12 student Riley Cross is a member of the Small Fires group and says the exercise is important as it shows people where Indigenous people came from and the way they were treated in past events through Canada's history.
"It's important so we don't lose our voice. It's important for other people to learn in case they don't know what it is."
LPSD First Nation, Métis and Inuit Coach Denae Bruce says the blankets are taken away throughout the activity to represent the assimilation of the culture through topics such as residential schools and other Indigenous issues.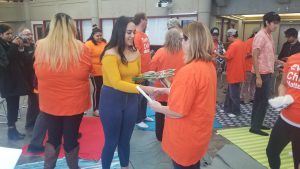 "It represents the assimilation of culture and language loss and reconciliation. We're trying to heal from that and educate people so something like that doesn't happen again," says Bruce.
The blanket exercise is one of the 94 calls to action by the Truth and Reconciliation Commission to promote reconciliation in Saskatchewan schools. The call urges provinces and territories to make age-appropriate curriculum on residential school, treaties and the history of Indigenous people.
Once the exercise is over, Bruce says the participants will get into a circle and share their thoughts on the history of Indigenous people in Canada.
"There are times where it is quite emotional and a lot of people say they've never learned about this before which is something common in Canada that the residential schools and the history of Indigenous people are not taught in schools."
Bruce says the activity is important for her Small Fires group as they will be the ones to pass on the stories in the future.
"The legacy is in their family so they're here now spreading the awareness and becoming leaders of action."