Safeway is creating a Sensory Friendly Shopping environment every Monday to accommodate customers.
From 7 p.m. to 9 p.m., a manager or a store team member will be at the front of the store to answer or help customers to understand the Sensory Friendly Shopping. They will also be explaining why this initiative is happening. 
Rob Woodland, Store Manager, explains that it originally started with one store in P.E.I.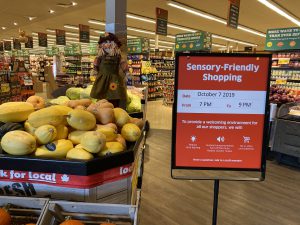 "What we do; we will actually be reducing our lighting by 50 per cent, we'll be reducing all our sounds on the PA system, music and telephone, some of the scanners at the registers will also be turned down. We're going to create lower department noise; we won't be filling the shelves, we won't be pushing carts around, which will make the whole shopping experience very quite, very peaceful and calming."
Safeway wanted to create an environment that met the needs of their comprehensive customers. This is in all Sobeys stores in Atlantic Canada and Ontario. Alberta Safeway stores recently launched this new way to shop. 
"It's an interesting concept. People that have a hard time with noise, like autism, certainly a big focus as well; but, I mean even it's certainly nice as well to be able to have after a hard days work, to come to an environment like shopping where it's very calming," says Woodland.
Woodland encourages customers to talk to the staff, read the signs and share their experience on social media.
Sensory Friendly Shopping is open to everyone, but especially to the customers that find shopping difficult because of the sensory overload. Safeway understands that consistency is important, Sensory Friendly Shopping will be on every Monday from 7 p.m. to 9 p.m.