Pharmacies and health clinics in Lloydminster are set to receive their flu vaccinations on October 21.
On the Saskatchewan side, influenza clinics will begin on October 21 at the Prairie North Plaza and run on certain dates until March 31. There will also be clinics held on specific dates at Lakeland College, Dr. Hemstock & Hearthstone Place and the Legacy Centre.
On the Alberta side, the closest clinic will be in Kitscoty. The Kitscoty Community Hall will be holding a drop-in clinic on October 30 from 2 to 6 p.m. From then on the clinic will be open in November and December by appointment only at the Kitscoty Community Health Centre.
Anyone over the age of five can receive a flu shot from either a health clinic, pharmacy or some doctors offices. Children between six months and five years old can only get the vaccine at a public health clinic or through a physician.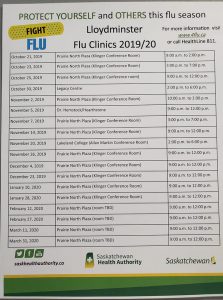 The AHS recommends those considered a high-risk case to get a flu shot every season as they are more at risk of having complications arising from the flu. High-risk cases include people who have respiratory issues, anyone over the age of 65 and those who are pregnant.
According to an AHS report, there were over 6000 cases of the flu in the 2018-19 season with 30 deaths caused by the virus. Pharmacist Scott Malek of Sprucewood Pharmacy says those who aren't high risk should also get vaccinated.
"You're able to be a carrier without exhibiting symptoms or without having severe effects from having influenza. So if you know or come in contact with someone that is high risk you could potentially be passing it on to them."
Malek says while washing your hands with soap or using hand sanitizers are a good way to prevent the spread of the virus, the best way to prevent it is to get the immunization.
"The best preventative mechanism that we have is the vaccine. It allows the body to prepare to fight off the influenza virus when it experiences it."
People are asked to bring a valid Alberta or Saskatchewan health card at the time of vaccination.