Kids from Lloydminster and surrounding areas were able to skip school and cheer on the Lloydminster Bobcats.
"Hockey Hooky Day" brought in Grade 4 to 6 students from the Lloydminster Public School Division schools and students from Kitscoty, Lashburn and Marshall to the Centennial Civic Centre for a hockey game on October 8.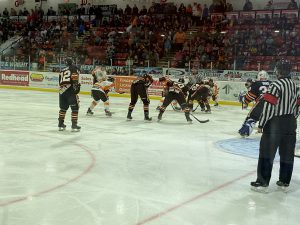 The Lloydminster Bobcats played the Drumheller Dragons for the third "Hockey Hooky Day". Shawn Coulter, Rendell Park Elementary School teacher, says it lets the kids see something they may not otherwise be able to.
"If we can expose them to anything that they will fall in love with it works so well. Its part of our roles as teachers is to create that passion for students and what an easy way by bringing them to the game and see some of their local players that we've created shine on this stage."
Coulter says for the children who are already familiar with hockey are able to have a different experience.
"They get to come in and be like leaders because they've done this before. They get to show where the bathrooms are or where the concession is and some of the kids like to have that leadership possibility." 
Bobcats Head Coach Nigel Dube says, because of the roster reset, most of the players didn't know what to expect playing for a crowd of over 1,000 kids.
"When you've got all these kids out here screaming and yelling in can make for an enjoyable afternoon," says Dube. "It creates an energy in the rink and it bounces off the walls so it's pretty cool for them."
The players visited every school before the event and took part in classes with the students.