Bat's in Lloydminster will soon be be at risk with White-nose Syndrome.
Bat Week is Thursday, October 24, to Thursday, October 31. This week is to bring awareness to the disease they are facing. Darcey Shyry, Instructor of Environmental Sciences at Lakeland, Biologist and Regional Coordinator with Alberta Community Bat Program, says this disease is currently in Manitoba and it won't be long until it's in Alberta.
"White-nose Syndrome was a fungal disease that's common in Europe and many places around the world, but it was absent from North America until it was introduced about 10 or 15 years ago around New York City. It's spread since then quite rapidly, 50 to 70 kilometers a year."
Currently, there is no medicine that can help.
"There is a probiotic treatment that is being tested right now. The hope is that we'll be able to apply this probiotic at bat houses and other roost sites where the bats can come in contact with it and then get inoculated against the disease," Shyry.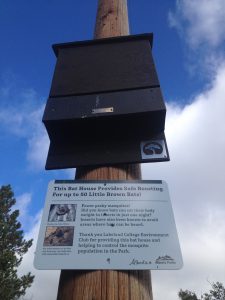 In 2016, the Lakeland College Environment Club built four bat houses, donating them to Alberta Parks. Since, they have built more, some being on the Lakeland Farm and also on local farms.
The Alberta Community Bat Program has been monitoring the houses and have been able to collect DNA. From that, they have found that the endangered little brown bats occupies the house, bat pups were observed in 2018, and in 2019 the houses have been occupied by maternity little brown bats and bat pups. 
Shyry explains that a bat house is similar to a birdhouse but large ones can hold over 100 bats. He says when this happens it creates a nursery and mom and pups stay in the house until the pups learn to fly. 
"A lot of people think bats are really scary and that they want to fly in our hair. There's a lot of myths about bats; they do not fly in our hair, they don't want to get caught by people."
Farm or acreage owners can install a bat house to help them. Anyone can learn how to build their own bat house to put on their property. Bats in Alberta mostly eat mosquitoes and crop pests, increasing houses in proper locations can result in a decrease in pests.