Lloydminster's Youth Council is launching a new initiative giving the city's youth a voice in the conversation on vaping.
The Youth Council in partnership with YLLMyHome is looking to educate and reduce the use of vaping products among youth in the city. The launch of "A youth's perspective on vaping" features two videos showing the youth's perspective and reaction to vaping and vape products.
Tia Pavo, Lloydminster Youth Council Chair, says vaping is everywhere in their school and several of her friends have been offered to take part in it. She says some youths are selling vaping products through social media apps like Snapchat.
"Vaping is such a new thing. It came up overnight and suddenly it's this super popular thing. We've had years to learn about cigarettes and figure out why they're so harmful but we don't know that much about vaping yet."
Lorelee Marin, Lloydminster Area Drug Strategy Chair, says they've heard from other youths, parents and school staff about the prevalence of vaping among youth. She brought the issue forward to the Youth Council and received a strong response in support. 
Alexa Blyan, Chair of the Lloydminster Youth Health Committee, has also noticed the same increase in vaping in her school as well as in her brother's school. Last week, she met with MLA Jeremy Nixon and other members of the Tobacco Reduction Strategy to make recommendations for their review on how to take action on vaping products.
"Out of all the things I've done, it's the most important one to me because I felt like I was heard."
Blyan says the initiative is important as it lets other youths hear about the issue from someone around their age.
"It's so much more powerful coming from the youth and much more meaningful because if it's so bad that the youth themselves are feeling like they need to take action then we need to make some kind of change."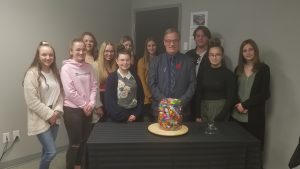 The initiative follows in the footsteps of another awareness campaign about the dangers of flavoured tobacco. The Flavour…Gone! initiative eventually led to a bill being passed removing flavoured tobacco products.
The Youth Council will be holding a presentation to children in Lloydminster schools in the future. YLLMyHome will also be holding a Parent Connection workshop to discuss drugs and vaping with adults and parents at Synergy Credit Union on November 20.
More plans for the initiative will be announced through both Facebook accounts and other social media platforms of the Lloydminster Youth Council and YLLMyHome.