Thirty to 40 men from the Lloydminster community came together to discuss gender-based violence over breakfast.
The second "Breakfast with the Guys" was hosted by the Lloydminster Interval Home Society on November 5 and brought men of different ages and occupations to speak on the issue of violence within relationships.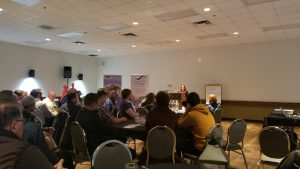 Community Program Manager Kathryn Ford says each year the Society plans to expand the scope of the men and this year over half of the attendees were new.
"It's encouraging. The majority of men are good guys. They are not okay with harmful behaviours targeted towards anyone and this event, to me, really shines a light on that. Lloydminster is full of good guys and we're asking them to step forward a little bit and help lead change around this issue."
The event is part presentation and part participation as men learned and talked about different situations involving violence and abuse. The presentation started by asking men to self-evaluate and look at their beliefs, tendencies and values that may shape a negative view on women and girls. It also asked them to look at the media they consume which may support those views and to be aware of them.
Ford says an important takeaway of the event is to be an active supporter by doing small acts and be willing to speak up and support those involved with abuse.
"Find your own way to take action. We're not asking anyone to be a superhero. If you're not okay with something then find a way to take action whether it's making a comment or asking for help."
At the end of the event, the attendees were asked to fill out a survey which Ford says is essential as it will help them make changes to the event in the future.
"We'll take it and create our next year's plans based on the feedback. If you give people an opportunity to share what they know, think and feel, they will do it. This is a great event for that because men get to speak about an issue that's hard to talk about."
"Breakfast with the Guys" is part of their Leading Change program which looks to inform and unite people to break away from the bystander effect and take action on gender-based violence.