The new budget for 2020 could see Lloydminster homeowners and business owners paying more in taxes. In the first draft of the budget, there is a proposed property tax increase of 2.5 per cent.
Residential properties valued at $250,000 would see an increase of $41 for the year. Commercial properties valued at $500,000 would see a $147 increase in 2020.
"We're trying to set a road to ensure financial stability of this community is set so we're not seeing an up and down as best as we can. The challenge is we didn't expect five buildings to be in the kind of condition they came back in. We're trying to look beyond the curve and see what challenges we face," says Mayor Gerald Aalbers.  
The budget sees some cuts to spending as well as showing less money coming into the city. Overall revenues sit at $84,822,732 while expenditures are at $84,813,361, creating a surplus of just over $9,000. It includes the 2.4 per cent increase in RCMP costs as well as the new agreement and structure for the city fire department. 
"We've cut things that we haven't cut for years, as far as ongoing street, sewer and water improvements. We're not cutting them completely but we're limiting the number of things we're doing to try and keep this budget in line and still move forward," says Councillor Buckingham. 
Projects in the budget included phase one of the wastewater treatment plant and drainage channel improvements. High priority items, which included the five-city buildings nearing their end of use, were only partially included as more information is needed for a decision.
"In the past few years, we've tried to do things like build reserves and get good policies in place and deal with some major changes in our revenue sources as far as having revenues from land sales and weaning ourselves off utilities. What we're finding right now is the low growth in assessment, increasing costs as well as trying to manage debt with all these projects coming online and buildings and infrastructure we have deficits in, we're having to juggle a lot of balls in the air," says Councillor Torresan. 
One project included in the budget is winter equipment and a snowplow for the airport. However, administration says if federal ACAP funding does not come through then the project will not continue.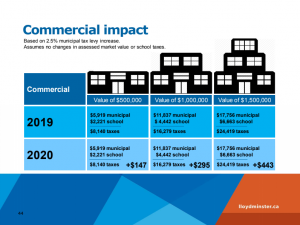 Council asked city workers to look further into parts of the budget and a revised version will be brought to city council on November 25.
Several councillors expressed the need for feedback from the community as they continue working on the budget. Currently, a "Your Voice" night is scheduled for December 3 at the Servus Sports Centre to discuss the future of a number of city buildings. The city is looking at adding budget talks to the engagement session.