Clubroot has been found in several canola fields near Lloydminster. The Saskatchewan Government released its latest map of where clubroot has been found in the province. 
The disease has been found in another eight fields since the release of the last map in January 2019. The clubroot pathogen was also found in five fields without visible symptoms this past year as well. 
Clubroot is a soil-borne disease that restricts a plant's ability to obtain water and nutrients from soil resulting in the premature death of the plants. The disease was found in 1 to 9 fields in the RM's of Britannia, Frenchman Butte, Mervin, Manitou Lake and Hillsdale.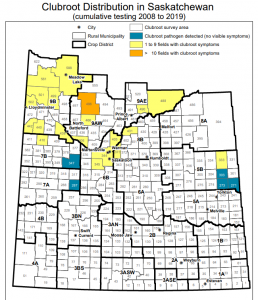 "Clubroot awareness and management is of increasing importance for the agriculture industry," says Agriculture Minister David Marit.  "We want to help farmers prevent further spread of the disease. Knowing where clubroot exists in the province helps us do that."
More than 1,700 fields were tested during the summer and fall of 2019 by farmers and agrologists. The province says the best way to manage clubroot is by keeping pathogen levels as low as possible to minimize the impact on canola fields. A proactive management strategy will include using a clubroot-resistant canola in a minimum three-year rotation.
Landowners have been contacted if clubroot has been found in their fields and the location of the fields has been shared with the RM. The landowners are required to develop a clubroot management strategy and all infested fields will be monitored by a Pest Control Officer.
Since 2017, visible symptoms of the disease have been found in 51 canola fields.