City council is looking to update the rental fees on parks and green spaces in the city to help supplement the costs of maintaining them.
At the Governance and Priorities meeting, council discussed fee increases on some parts of the parks and green spaces fees. Similar to the recreation fee increases, these fees are going up because of increased costs in maintaining the space and levels of service.
The ball diamonds, soccer pitches and neighbourhood park rentals will all be going up by 1 per cent. Currently, youth rates are 60 per cent of the adult rates. Those rates will be going up to 65 per cent over the next two years.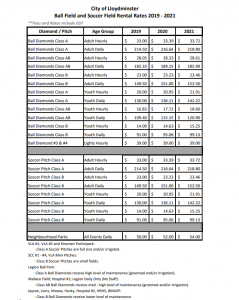 Ball diamonds rental rates in Legion Ball Park are set at $33 an hour and $214.50 daily for adults and $20 an hour and $130 daily for youths in 2019. Those rates will be increasing to $33.39, $216.64, $20.95 and $136.11 respectively in 2020 with further increases in 2021.
Cemetery fees on licenses, monuments, cremations and burials will all be going up by 3 per cent. Exhumations will increase by 20 per cent in 2020 and another 3 per cent in 2021 to reflect the extra work and safety needed for the operation.
In the Weaver Park Campground, the only increase will be to the rental fee for the picnic shelter. It currently sits at $65 on weekdays and $75 on weekends. It will be going up to $100 on weekdays and $125 on weekends. Parks Superintendent Blake Nielsen mentioned in the meeting that it has been underpriced for some time.
Councilor Stephanie Munroe says it will mostly affect the Minor Baseball Associations and similar organizations who use the spaces on a regular basis and not the individuals rent the spaces every once in a while.
"Their fees will be affected long term but more than that it's just to bring it up to par with all our other recreation rates that we just set. Everything else reflects that way as well."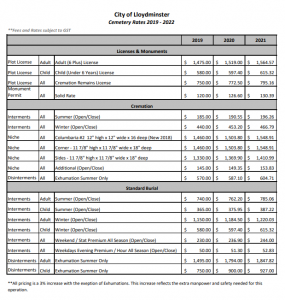 Mayor Gerald Aalbers says the increases are part of balancing between user pay and taxpayers money.
"There's a tradeoff because people like to see the grass mowed and the fields in good condition but that takes staff and costs money, fuel, the carbon tax. It's an increased cost to run more mowers and trucks around the city."
The last review of the parks and green spaces fees and rental rates was in 2017. If the council passes the recommendation at the next council meeting, the fee increases would go into effect immediately.