Saskatchewan Health Authority data shows that the province is in better shape to contain and fight the COVID-19 virus.
Modelling data, which is not a set-in-stone prediction but rather shows possible outcomes, shows several factors that has lead SHA to be "cautiously optimistic."
The information shows that had Saskatchewan put no interventions such as physical distancing in place, a COVID-19 positive person could infect an average of 3.2 people. This number is considered the Basic Reproductive Number for the disease.
After these interventions are factored in, it's estimated a COVID-19 positive person could infect an average of 0.7 people.
This number is known as the Effective Reproductive Number-or how many people could be infected with measures in place- and could vary on a day by day basis. It is now believed this number has been under the average of one since the beginning of April.
The SHA is using the new Saskatchewan-specific Basic Reproductive Number to adjust its planning scenarios. The Effective Reproductive Number will be used to guide decisions specifically about public health measures, help the province to make real-time adjustments to public restrictions, as needed and help prevent a resurgence of COVID-19, while balancing a gradual return to normal.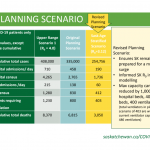 The Province calls it "planning for the worst possible outcome while aiming for the best."
SHA also predicts a need for 1,000 fewer hospital beds, 400 fewer ICU beds and 400 fewer ventilators.
Saskatchewan Health Authority Chief Medical Officer Dr. Susan Shaw says we're still in an up and down battle against COVID-19, which they will adapt to as it comes.
In the meantime, the Ministry of Health is working with SHA to resume community services, elective surgeries and diagnostics that were impacted by earlier service slowdowns.
Residents are also encouraged to maintain healthy habits such as good hygiene, physical distancing and avoiding visiting medical facilities unless for compassionate reasons. The province says this will continue to flatten the curve.
Across Saskatchewan, there have been three new recoveries, one new case, and eight people in hospital. Six are receiving inpatient care, while two are in intensive care.
In the North Zone, housing the Lloydminster area, there are nine active cases, 69 recoveries and three people receiving inpatient care.