A small group of Lloydminster youths are carrying on in cleaning graffiti in the city.
Six volunteers from the Lloydminster Community Youth Centre are helping Art Soul Life Creative Studio and the City's Family and Community Support Services put together two murals behind the buildings on 50th Avenue and 48th Street. Jayce, one of the young volunteers, says it feels good to help the community.
The first mural will depict forests and mountains across three different walls in the alcove behind Bojangles Hair Centre. The second will be underwater-themed and is located behind Serenity Healing Crystals & Books.
Mayor Gerald Aalbers was also there to pick up a brush to coat the walls for the second mural. He says City Hall hears about the graffiti concerns from residents and the program is one way of addressing those concerns.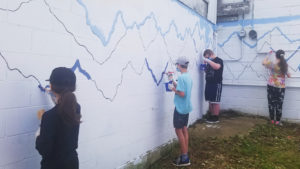 "We work with the community to try and prevent it and when we do run into graffiti (we try) turning it into something incredible. Last year's experience was excellent and I think it's only going to get better."
This is the fifth year of the graffiti clean-up project and Aalbers was happy to see young people in the city continue to engage with cleaning up the community.
"It's important for the youths to speak out saying 'This isn't great. This isn't how we want to address our city. This is a great city and graffiti can take away from that.' When you turn something bad into something good, I think it speaks well and the kids really enjoy it."
The city pinpoints particular areas where graffiti is prominent as a focus for the project every year. Last year, the youths and volunteers painted over the old water treatment plant.
"I drove by it yesterday, as a matter of fact, and it looks great. The artwork that was done and the way the kids took part in that, it makes me very proud to be here and help support them and let them know that the city is behind them."
Volunteers will continue painting the murals throughout the summer as weather allows.