Five new cases of COVID-19 were recorded in Saskatchewan with two on August 22nd and three on August 23rd.
Across the province, one new case was reported in the north central zone, one in Regina, one in the south west zone on August 23rd. On August 22nd, one new case was recorded in Saskatoon and one in the south west zone.
One case in the Turleford-St. Walburg subregion recovered on August 22nd, leaving three active cases in the area.
In the north-west zone, there is one active case in the Lloydminster-Maidstone subregion, two in the Battlefords subregion and 18 in the Cut Knife-Wilkie subregion.
The province reports another 33 recoveries in the province. A total 1,472 people out of 1,600 cases have recovered.
Five people are in hospital. One person is receiving inpatient care and four people are in intensive care, all in Saskatoon.
The province says 69 of 106 active cases are in communal living settings.
---
Northwest Regions, broken down: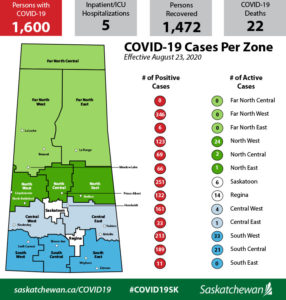 North West 1
Aquadeo
Cochin
Edam
Glaslyn
Kivimaa-Moonlight Bay
Meota
Mervin
Metinota
Paradise Hill
St. Walburg
Turtleford
North West 2
Denzil
Lashburn
Lloydminster
Macklin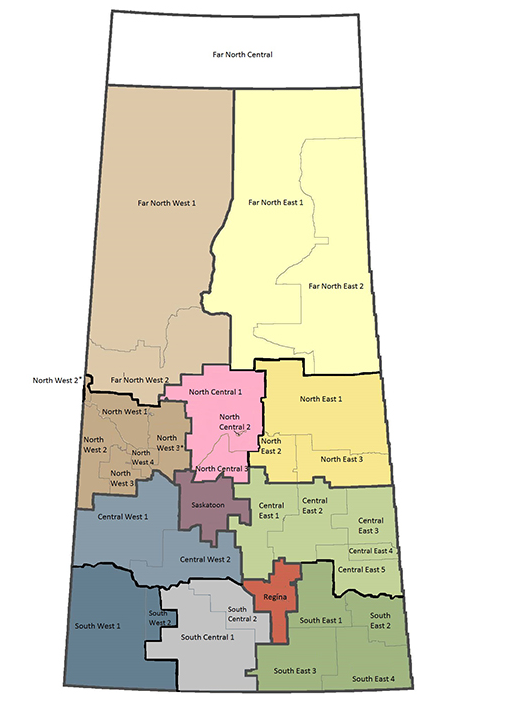 Maidstone
Marsden
Marshall
Neilburg
Paynton
Primate
Senlac
Waseca
North West 3
Cut Knife
Landis
Scott
Unity
Wilkie
North West 4
Battleford
North Battleford