The City of Lloydminster has recognized several youth volunteers for their work on an anti-graffiti project.
Over the past two months, six volunteers from the Lloydminster Community Youth Centre have been painting over graffiti in downtown Lloydminster with two large murals. The first mural depicts forests and mountains across three different walls in the alleyway behind Bojangles Hair Centre. The second is located behind Serenity Healing Crystals and Books and is underwater themed.
Painters wrapped up the project on August 28th, and the City handed out certificates to the volunteers recognizing how they've helped the community.
Social Programs Manager Patrick Lancaster says there are several takeaways from the program for the kids involved, including a stronger sense of self-esteem.
"The primary focus of the program is to provide a really positive volunteer experience for youth so that they can really showcase what they have to offer, learn some new skills, and have something they can take pride of in the community."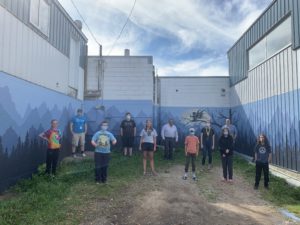 The City has been running the graffiti cleanup program with the Youth Centre for the last five years, with the last two giving letting the youth involved express extra creativity with the murals. For this year and the one before, the Centre has teamed up with ArtSoulLife to create these murals.
Lancaster explains that the murals serve another purpose in addition to the youth getting show off their creativity and beautify the city.
"In this case, putting a mural over [the graffiti], it helps prevent the spread of graffiti, because the areas where there's already graffiti, the graffiti continues to spread. Whereas when you clean it up, it actually prevents future graffiti in those areas."
Home Depot also provided all the paints and materials for the project, with ArtSoulLife guiding and directing the kids through the process.