Lloydminster residents with a mobility issues now have a new tool to help them enjoy old activities that may have been previously inaccessible.
Border City Connects is offering the use of a new paragolfer to residents as part of an adaptive recreation initiative. The paragolfer is an all-terrain wheelchair that allows its users to stand for activities. Director Glenn Fagnan says the $41,000 vehicle is able to do more than help residents play golf.
"It can be used for bowling utilizing another device that they have at the bowling alley. Pool is another and there's numerous other things."
"The main thing that instantly comes to mind is standing across the altar from my bride someday," Brue Mann adds. "It's also a registered wheelchair in itself so it could be used for anything wheelchair-wise."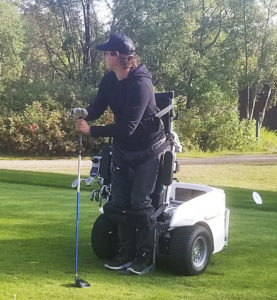 Mann was the first person to use the vehicle for a quick swing on September 16th. Mann suffered a spinal cord injury after a truck accident in May 2019. He was first exposed to similar vehicles during his rehabilitation in Saskatoon.
When he was told about bringing something similar to Lloydminster, he says he couldn't wait. Since rehabbing, Mann has been able to talk with the creator of the vehicle to learn how to use it in order to teach others.
"I've been golfing here for the past month and I've been learning a whole new game of golf, but it's so nice to be out there with my friends again."
Donna Arnold was the originator for the project and donated money to the Lloydminster Region Health Foundation in honour of her husband Ken Arnold. Their daughter Ramona Arnold-Mann hopes to see other members of the community with spinal cord injuries enjoy the paragolfer.
"We know Brue will use it, but we want others to use it. [We hope] to have more than one of these paragolfers in the community. That would be an ultimate goal, to see many people benefiting from it and a few more machines in the area."
Fountain Tire also partnered with Border City Connects for the paragolfer.
Fagnan says residents can book the vehicle by calling Border City Connects and it will be delivered to them. Volunteers will be available to teach new users how to use the machine and Fagnan says the manufacturer will also hold a clinic once the borders to the U.S. are reopened.
Border City Connects is also looking for the community's input on what the vehicle could be used for during the winter.