Lloydminster Hospital Site Chief of Staff is providing a look into the current pandemic situation in the community as well as looks back into the steps taken to curb the spread of COVID-19.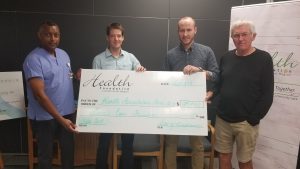 Dr. Kevin Govender says out of the 212 active COVID-19 cases in the North West 2 region of Saskatchewan, about 50 cases are in Lloydminster. Govender adds the case numbers have remained in the 40 to 50 range over the past three to four weeks.
He says there has been an increase in patients hospitalized with COVID-19, but there hasn't been a dramatic shift in the rate at which it is happening. In more serious cases needing long-term ventilation, Govender says they will continue to ventilate, intubate and transfer patients to tertiary care centres.
"We may need to keep patients at our centre a little longer because these patients will need to find a bed at a tertiary care centre. So, we will and have the capability for short-term ventilation, but we don't have the resources or the staff to manage [long-term ventilation]."
PPE and Hospital Bed Capacity
When planning for a potential surge of COVID-19 cases during the spring, hospital staff created a redesigned floor plan to make sure they would be able to care for a large number of admissions to the facility. The plan included increasing the available bed space from 66 to 118 if required.
During the planning process, Govender says they met with Saskatchewan Health Authority (SHA) members several times a week to ensure everything would be in place.
"In the first wave, we didn't have to go beyond capacity in Lloydminster."
A potential personal protective equipment (PPE) issue that arose at the start of the pandemic was the availability of N95 masks. Govender says it has been a non-issue at the hospital and in general the supply of PPE has gone uninterrupted.
"In Lloydminster, we've gone above and beyond in the basic requirement for PPE with full PPE for all patient interaction. We've had no issues with a lack of PPE. Supply has been good."
Over the past ten months, another issue doctors, nurses and healthcare staff faced were the long work hours put in to care and treat patients. The issue typically occurs in larger cities where a majority of COVID-19 cases were found.
Govender says that hasn't been the case for a majority of staff at the Lloydminster Hospital.
"Of course, they are working under stressful conditions dealing with the COVID-19 patients and having to get into full PPE for every patient interaction is quite time consuming and difficult at times. Apart from that, we haven't seen any significant increase in work hours."
Early Pandemic
One of the most important aspects during the early stages of the pandemic was ensuring the SHA and Alberta Health Services were in contact when it came to cases in the Lloydminster region. A line of communication was set early and representatives with the two health authorities have been meeting regularly to discuss any issues arising in the area.
"This was something that was identified because of our previous experience and because of the pandemic we didn't want to foreshorten that area. So, communication between the two organizations was of paramount importance."
Govender notes one of the issues that came up was residents on the Alberta side being referred to testing sites outside of the city when they called 8-1-1. This was due to the fact that the hospital was Saskatchewan-based and did not show up in the AHS system. He encourages residents to contact their family doctor to get a referral to a COVID-19 testing site in the city to avoid the issue.
Vaccination
Vaccines are currently being administered to health professionals in Saskatchewan's larger centres with more healthcare workers and long-term care staff and residents receiving the vaccine within the next three months. Phase one of the vaccine plan also includes all Saskatchewan residents 80-years-old or older and residents over the age of 50 in remote or northern parts of the province.
Govender says there will be logistical issues with the greater rollout of the vaccine. Doses of the Pfizer-BioNTech vaccine need to be stored and transported in an ultracold storage device at about -60 to -80 C. He says the challenge is there are a limited number of freezers available in the province.
"What's happening now is that patients or healthcare workers need to get to the vaccine instead of the vaccine getting to them. There are a lot of logistical issue that will have to be put in to place before the vaccine can get to places like Lloydminster."
He notes the situation is fluid and things may change as different types of vaccines become more readily available in the province. Phase two of the Vaccine Delivery Plan includes the immunization of the general population which is expected to start April 2021.
Govender commends residents for all that they've done to help curb the spread of the virus.
"These aren't easy times. The personal sacrifices that everybody has had to make hasn't been easy, but our community has done a fantastic job in ensuring that we've had and maintain low numbers of COVID-19 in our community. We do this not for ourselves, but to protect those in our society that are most susceptible to becoming ill from this virus. I think we need to continue to do that."
Until a vaccine becomes readily available for all residents, he reminds community members to follow all public health measures in place including practicing proper hand hygiene, wearing a mask, physical distancing and staying home when feeling ill or when someone begins developing symptoms.
"It's very very important for us to be respectful and think about each other during this time."