While the pandemic has been hard for many, some Lloydminster students are learning there are also new opportunities and surprises that can come with it.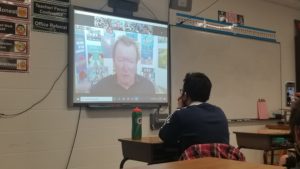 As part of their English Language Arts course, grade 7 students at Father Gorman Community School are reading Don't Stand So Close To Me by author Eric Walters. The book is about a 13-year-old girl named Quinn who is adjusting to the COVID-19 pandemic herself and how it impacts her daily life.
Teacher Mitchell Cherry says the book was chosen as a way to help students connect literature to aspects of themselves and the world around them.
"A big part of our ELA curriculum is making those connections to everything that we're reading. Eric does a really good job of that as all of his novels are based on life experiences and have lessons. As well as being a Canadian author, he's a big part of our curriculum and we look forward to studying more of his novels."
Student Daniel Lopez says it was surprising to read something that was so similar to his life at this moment and lays out some valuable teachings as well.
"The lessons [from the book] are that some people have their own problems and hardships but there's always people who have your back and will help you and make it right."
Thanks to a grant from their School Community Council, the students were also able to meet with the author of the book virtually and ask him questions. Walters provided more information and showed pictures of the moments and communities his books are based on. Lopez was excited to meet Walters virtually as he is a fan of his work and their relatability as they are usually based in real life.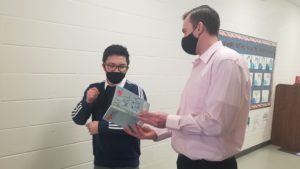 On top of reading the copy of Don't Stand So Close To Me, students were asked to research Walters' works and choose one of his 100 published books for a future project. Unbeknownst to them, the author sent each a signed copy of their chosen book. Lopez was ecstatic to get his copy of Say You Will and says the themes of friendship stood out to him.
"It's about two people who are friends and want to meet each other so badly. To me, friendship in life is very important."
Each student will then have to write up a report about how their chosen novel connects to them personally. This won't be the last time Lopez and his classmates will get to meet Walters as Cherry plans on bringing him back for another meeting.
"We plan on visiting him again in the future and expand on what we talked about and all the things we are currently learning," Cherry says.