Onion Lake Cree Nation band members braved the cold weather to see the reintroduction of bison to their traditional lands.
Onion Lake Cree Nation held a welcoming ceremony on February 17 with residents surrounding the paddock to witness the historic event. The animal faced near-extinction in the late 1800s due to concentrated colonial efforts. After decades of conservation the population grew back to the thousands and now 33 plains bison from Elk Island National Park were released into an enclosure near the North Saskatchewan River.
"I'm very honoured and it's very uplifting to see all of our band members showing up for this occasion," says Okimaw (Chief) Henry Lewis. "The buffalo is a big part of our ceremonies and as a leader I really welcomed this initiative."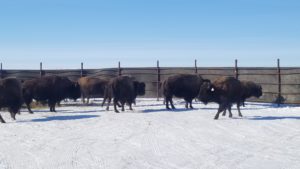 The process began in 2017 when Onion Lake leadership went to a Parks Canada open house about reintroducing bison and other animals to traditional lands. Onion Lake's Lands Department continued the conversation for years and were able to secure the animals in late 2020.
Jonathan DeMoor with Parks Canada says plains bison and wood bison population at Elk Island National Park grow by about 20 per cent a year. To avoid overpopulation in the park, they send out surplus bison to communities with the municipalities paying for handling and transportation.
"Having too many animals in the park can [also] overgraze the grasslands which can lead to disease. These are things we try and keep in check."
DeMoor says the herd in Onion Lake could also grow by the same amount if managed well and mentions some of the ones transported are already pregnant.
Lewis says there are many benefits to having a herd back on Onion Lake Cree Nation territory including boosting Indigenous tourism and giving the younger generation an opportunity to learn about their history and traditions by interacting with the bison. They will also provide a sustainable food source and food security to the community.