City council received a year-end public safety report and the RCMP Q4 report at the Governance and Priorities Committee meeting on February 22nd. Senior Manager of Public Safety Glenn Alford presented the public safety report and provided more information on bylaw and traffic enforcement, the Lloydminster Operational Communications Centre and RCMP administration.
The city employs four Community Peace Officers who are able to enforce bylaws and traffic violations on either side of the border because of the Lloydminster Charter. The Alberta Peace Officer Act applies to the entire city through the Charter.
Calls for service were down by one per cent due to the lower activity during the early stages of the pandemic. The city received 98 unclean sidewalk complaints in 2020 with the city having to clean 31 of them. Officers handed out 1,116 violation tickets with 79 of them issued for a mandatory court appearance for uninsured vehicles and suspended drivers.
Photo radar is only employed on the Alberta side of the city in 48 zones and the number of tickets handed out were fewer in the past year than in the previous year. In 2020, 4,094 photo radar tickets were issued, compared to 5,241 in 2019. Alford says part of the decrease was due to the city not monitoring schools and playground zones while schools were closed during the spring months. He adds the main focus for photo radar is in pedestrian heavy areas with highly vulnerable populations.
The Alberta government has also issued a moratorium on changes to photo radar equipment or locations in the province on December 1st, 2019, meaning the current system in the city will not change. Mayor Gerald Aalbers encourages residents to keep their community safe and reminds drivers to stay within the posted speed limits.
"I remind people that photo radar is a self-induced operation. If you don't speed, you will not receive a ticket from the city. I encourage people to follow the speed limits around the city. I've heard very clearly that people aren't happy that photo radar is there but they're there to discourage and help people maintain those speeds."
During the spring months, Alford says they didn't see more drivers breaking the speed limit on streets like Highway 16 but the ones that did were hitting speeds of up to 158 km/hr in a 60 km/hr zone. Calgary and other cities noticed a similar trend in 2020.
RCMP Quarter 4 Update
Lloydminster RCMP saw a six per cent increase in overall criminal offences in 2020 with a 12 per cent increase in persons crimes such as robberies, assaults and uttering threats and a 16 per cent rise in mischief-related offences such as vandalism and property damage. There were a total of 1,017 persons crimes in 2020.
There was also a decrease in sexual offences and a nine per cent reduction in property crimes overall with a total of 3,404 cases, down from 3,745 in 2019. Property crime reduction continues to be a focus for the detachment in 2021.
There was a significant increase in criminal offences labelled "other" which include a 180 per cent increase in failing to comply offences. Inspector Lee Brachmann says the increase shouldn't be a concern for residents as it is related to the detachments focus on targeting repeat offenders.
"This has been ongoing for some time and continues to show results," says Aalbers. "[The RCMP] sits down with prolific offenders and say they can help change the way you are doing things and go onto a different lifestyle or the full force of the law will be brought down. I think that helps send the message to those that are trying to change their life and those that have chosen the course they've taken and they will be dealt with."
The number of motor vehicle collisions and provincial traffic offences were down as fewer people drove in the spring. The detachment will also continue targeting distracted drivers. Brachmann says new provincial sanctions were put in place in Alberta in December 2020 through Bill 21. It allows police to lay administrative and/or criminal penalties to impaired drivers who may face fines of up to $2,000. Police could also seize vehicles for up to 30 days for certain offences and repeat offenders may see an increased licence suspension and take part in a mandatory education program.
Lloydminster RCMP also responded to more mental health calls in the last year from 390 to 519, a 33 per cent increase. Aalbers says this is an issue he's heard about in several communities in both provinces.
"It's a concern I hear weekly in our Mayor's Conference call in Saskatchewan and bi-weekly calls in Alberta. It's a concern in every community and COVID has added to the stresses in schools, homes and workplaces. We encourage people to seek assistance. There are people and help resources available."
Aalbers adds they are continuously discussing mental health supports and funding with both provincial governments. As for Public Health Act enforcement, Brachmann says there hasn't been much issue with public health guideline compliance.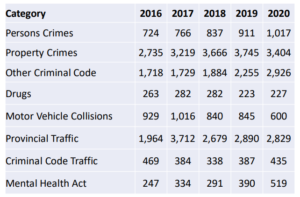 One issue the detachment will face in 2021 is replacing an officer assigned to the Police Dog Services. The current handler will be transferring out of the detachment and with it being a highly specialized position, Inspector Brachmann says it may take some time to replace. He adds they do have contingency plans in case of significant interruptions.
Brachmann has also established an Inclusion and Diversity Advisory Committee to connect with the diverse community in Lloydminster and address their concerns. Councillor Michael Diachuk says Lakeland College utilized a similar regional committee to address mental health supports for students. The committee found there was a gap in knowledge between what people thought the resources did and what they actually do. He hopes the Inclusion and Diversity Advisory Committee will help address those same gaps.
"The kind of work Inspector Brachmann is talking about is bringing everyone together and find out where the gaps are and how do we shore that up with resources in our community. Overall, it means you are catching people before they get involved with crime and before they reach rock bottom and find supports for them which ultimately makes our community much safer and healthier. That multidisciplinary model has so many possibilities and so much upside and I'm really pleased to hear that."
Brachmann says the Lloydminster detachment will keep collaborating with police forces like the incoming ALERT and organizations to address issues in the community and surrounding areas. They are also looking into the feasibility of a Police and Crisis Team in the city to respond to situations involving mental health and addictions.