While many industries and services were forced to slow down during the pandemic, the Lloydminster Fire Department saw an increase in activity.
City council was presented with the annual Fire Services Report detailing the department's activity in 2020 which showed a 13 per cent jump in calls from 2019.
Fire Chief Leigh Sawicki says overall there were fewer significant building fires in 2020, however the department did see an increase in vehicle fires. Crews responded to 60 fires in the city which is down by 10 when compared to 2019. This count includes building, vehicle, grass and garbage fires.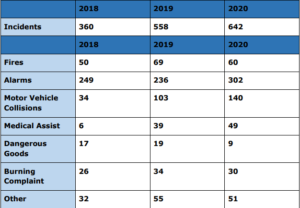 Sawicki says there was a rise in the number of alarm calls for things like cooking and commercial fires as well as carbon monoxide alarms as more people were at  home during the pandemic. The department responded to a total of 302 alarms in the past year which accounted for nearly half of the 642 incidents accounted for in 2020.
Councillor Aaron Buckingham says the city is working alongside the department in updating their bylaws to ensure the number of false alarm calls are kept to a minimum.
"The new bylaw that's in place will hopefully drop some of those alarm calls because there is now a new fee associated with the third alarm call. On the other side of things, the one time you don't respond to that alarm call in a hurry is the time it is a full on fire. Our job is to protect people and make sure that happens and our fire services team does an excellent job."
Lloydminster fire crews were also called to more motor vehicle collisions and medical assists in the past year. In 2020, they responded to 140 motor vehicle collisions and 49 medical assists while in 2019 it was 103 and 39 respectively. Sawicki noted the increase in medical assists is relatively low when compared to other Alberta communities which he says may account for 40 to 50 per cent of overall calls in the year. He adds the responses are usually to provide backup in critical situations such as heart attacks or situations where a person has difficulty breathing.
Buckingham adds another factor that played into the increase was the departments switch from a volunteer service to a composite service.
"As it was noted in the meeting, those numbers are higher because we have the resources to do that now. The relationship is growing and the ability to help is way greater than it ever was before."
Public education will still be a focus for the Lloydminster Fire Department and staff will look into ways to engage with the public while also following health guidelines. Sawicki says some initiatives in the past like school trips to the fire hall have been adjusted to a virtual format and other ideas are being explored.
The department also shifted from residential inspections to commercial property inspections in 2021. Hotels were an early candidate for inspections and the department completed 37 inspections in the last year.