Liner Note Leftovers
Did you miss the Beggar's Banquet? Looking for a Second Helping?
Look back on the week in rock n' roll that was, and liner notes to your favourite tracks with Liner Note Leftovers – hosted by the Goat's resident crate-digger, Dan Soul. He's got all the knowledge of your local record shop nerd AND your burnout cousin who gave you your first rock album all rolled into one!
Climb the Stairway to Heaven, ride the Highway to Hell, travel Abbey Road to the Hotel California, and get all the Cheap Thrills that make Rock N Roll great.
And don't worry: you'll learn about Road Apples, but you won't have to eat them.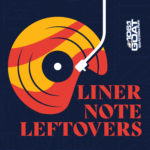 Liner Note Leftovers- Season One Finale, Looking to the Future

Nov 17, 2021 • 4:09

In this updater, we announce the end of season one of Liner Note Leftovers, and some plans for the podcast as we go on a temporary break. It's been a pleasure doing this show for 31 episodes, and know that season 2 is coming better than before, and we want…

Liner Note Leftovers #31- Dark Horses

Nov 11, 2021 • 21:26

Does Triumph deserve their reputation as "Poor Man's Rush?" [Spoiler: Hell No!] How was the "greatest" song about Woodstock written by someone who wasn't even there? How did the 1974 George Harrison "Dark Horse Tour go so wrong? How did a radio mistake help break Rage Against The Machine? Pondering…

Liner Note Leftovers #30: Scary [Rock N Roll] Stories to Tell in the Dark!

Oct 29, 2021 • 20:58

Was Sammy Hagar really abducted by aliens? Is Jim Morrison a ghost, now haunting a famous rock writer? Did Black Sabbath really get a visit...from the Devil himself? Those bold enough to enough to join us for this haunting episode of Liner Note Leftovers are in for a very spooky…

Liner Note Leftovers #29 - Mixed Bag

Oct 22, 2021 • 25:50

This week's Liner Note Leftovers is a mixed bag! The caper of Randy Bachman's stolen guitar! Paul McCartney's hidden message [and impact] on the Simpsons+ his hidden soup recipe! Also, features on Rush's Closer To The Heart, Led Zeppelin's The Song Remains the Same and Meatloaf's Bat Out Of Hell. 

Liner Note Leftovers #28- The Rule of Threes

Oct 8, 2021 • 21:31

Going country with Led Zeppelin! The Bizarre Tale of the John Lennon Fingerprint Caper! Also features on Soundgarden's BadMotorFinger, Queen's We Will Rock You/We Are the Champions, and CCR's Bad Moon Rising. 

Liner Note Leftovers #27- Rasputin, Reunions, and Star Wars Disco

Sep 30, 2021 • 23:53

This week on Liner Note Leftovers: A Star Wars disco album is already weird, but that's just scratching the surface of how odd this gets. Also, Ozzy writes a play, and The Band joins Bob Dylan at the worst possible time, though you wouldn't think so! 

Liner Note Leftovers #26- Pierre Berton's Pants

Sep 24, 2021 • 24:00

The Barenaked Ladies getting into an eight year beef with the City of Toronto! Facts you didn't know about Nirvana's Nevermind! Springsteen goes country! Goo Goo Dolls stop being punk!

Liner Note Leftovers #25- Spontaneous Combustion!

Sep 22, 2021 • 23:17

Liner Note Leftovers is back, and we're bringing that fire! How lighters at concerts is a Canadian invention! The Who almost blows up, literally! Ozzy's fiery muse, Lemmy! And that's just some of this week's show!

Liner Note Leftovers #24- Nathaniel Hornblower and other Silly Tales

Sep 10, 2021 • 24:38

This week: U2 gives away a free album with disastrous results, KISS saves themselves and their record label with Alive and the life of Nathaniel Hornblower, the lederhosen clad "Swiss Uncle" and muse of the Beastie Boys. Like Santa, he's real if you believe.

Liner Note Leftovers #23- What's the Frequency, Kenneth?

Sep 3, 2021 • 23:29

This week: A story I've wanted to tell since we began Liner Note Leftovers! The bizarre tale of how Dan Rather being beat up by time travelers inspired R.E.M's "What's The Frequency, Kenneth?" Also- Why you don't tell Def Leppard to turn it down, and the making of classics by…