The SHA has issued an advisory that there has been potential COVID-19 exposure at a local dentist shop recently.
The exposure happened at the Orion Dental Group between March 8th and 11th.  Normally, health officials would reach out to people there at the time to contact trace,  but they have been having difficulties obtaining a list of staff working at that location.
As such, the SHA has issued a public health notification so they could advise people who may have been exposed.
The SHA is asking anyone who was at this location at any time between the 8th and 11th to contact Public Health immediately and call 1-877-800-0002 to arrange a COVID-19 test.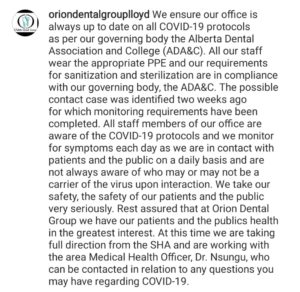 In a statement posted online, Orion Dental Group stated that they are taking full steps to be compliant with COVID-19 PPE and sanitation guidelines in the clinic and keep patients and staff safe, and are taking full direction from the SHA and local medical officer of health Dr Mandiangu Nsungu.
If anytime within fourteen days COVID-19 symptoms appear, people should self-isolate immediately.
—————
UPDATE: This article has been updated with comment from Orion Dental Group.